Blogging is considered as the cheapest and one of the most effective marketing strategies one can implement in his/her business. In fact, blogging can also be a form of business. Having a website can help you build an audience. It can also help you earn passive income through affiliate marketing. If you have have your own products, you can even earn more revenue. If you want to be an influencer in a particular niche of your choice, that would also be great! Right now, if you have decided to start blogging and are unsure of what to do, all you need to know is how to get started. In this article, you will learn how to start a WordPress Blog today and make money.
Name Your Blog and Register a Domain
Coming up with a blog name can be overwhelming. Nonetheless, it is very important because it is not only about naming a blog. It is also naming a brand. This is what people are going to refer when they start talking about you, your blog, your content, and your products. I can't tell you exactly what should be your blog name, but below are some of the few tips in naming your blog.
The Shorter, The Better. Keep the name of your blog as short as possible ranging from one to two words. Remember people are going to type your domain in the address bar.
Witty and Descriptive. You can name your blog after your own name for branding, or you can name it after a particular name. Some best examples are "OneAwesomePlanet", "ChasingWish", "EatTravelRepeat". These names are interesting and descriptive. They give you an idea of what the blog is all about.
Easy to Spell and Remember. Make sure that your name is easy to spell and remember so as not to confuse readers when they try to visit your website.
Register Your Domain
My host is SiteGround. It allows me to register my domain with them. However, I highly recommend choosing a dedicated domain registrar instead because they specialize in registering domains in a cheaper price. SiteGround charges $15.95/year for domains and another $12 for your first year of privacy protection with $24/year being the regular price. That means paying $39.95/year for a single .com domain.
On the other hand, Namecheap and other registrars only charge around $13/year for both domains and privacy protection. Some even charge less. I suggest you first shop around and register your domain elsewhere before jumping into the next section. It's always best to choose a .com domain since that's what most users are used to.
Once you already registered a domain or plan on registering yours with SiteGround, continue on to the next section.
How to Start a WordPress Blog Today with SiteGround
SiteGround is a multipurpose host that offers hosting solutions for a variety of different platforms, including WordPress. They've become a top host in the WordPress industry and have even earned a spot on WordPress.org's official hosting page. It is the most recommended host for new bloggers due to the low shared hosting prices and WordPress features they offer.
Step 1: Choose your plan.
Click here to head to SiteGround's WordPress Hosting page, and scroll down slightly until you see the three hosting plans they offer for WordPress. Choose WordPress Hosting.
SiteGround is listing the major differences between these plans for you. They should help you decide which is going to be the best for you. For reference, new blogs should only concern with the first two plans—StartUp and GrowBig.
SiteGround's pricing is a little bit misleading.This is because they list their prices in monthly format. However, they do are not offering monthly plans. You are going to pay in bulk which means that the StartUp plan will cost you $47.40 for your first year and not $3.95/month. For the GrowBig plan, it will cost $71.40 for your first year and not $5.95/month. You have to keep this in mind especially when budget is a factor.
Click the Get Started button associated with the plan you are to purchase once you have made your decision.
Step 2: Registering a Domain
Next, register your domain with SiteGround. Once again, I recommend that you register your domain with a domain registrar such as NameCheap to separate your domain from your host and receive cheaper pricing.
Select Register a New Domain or I Already Have a Domain, enter your domain in the box. Then, click Proceed.
Step 3: Adding Your Billing Information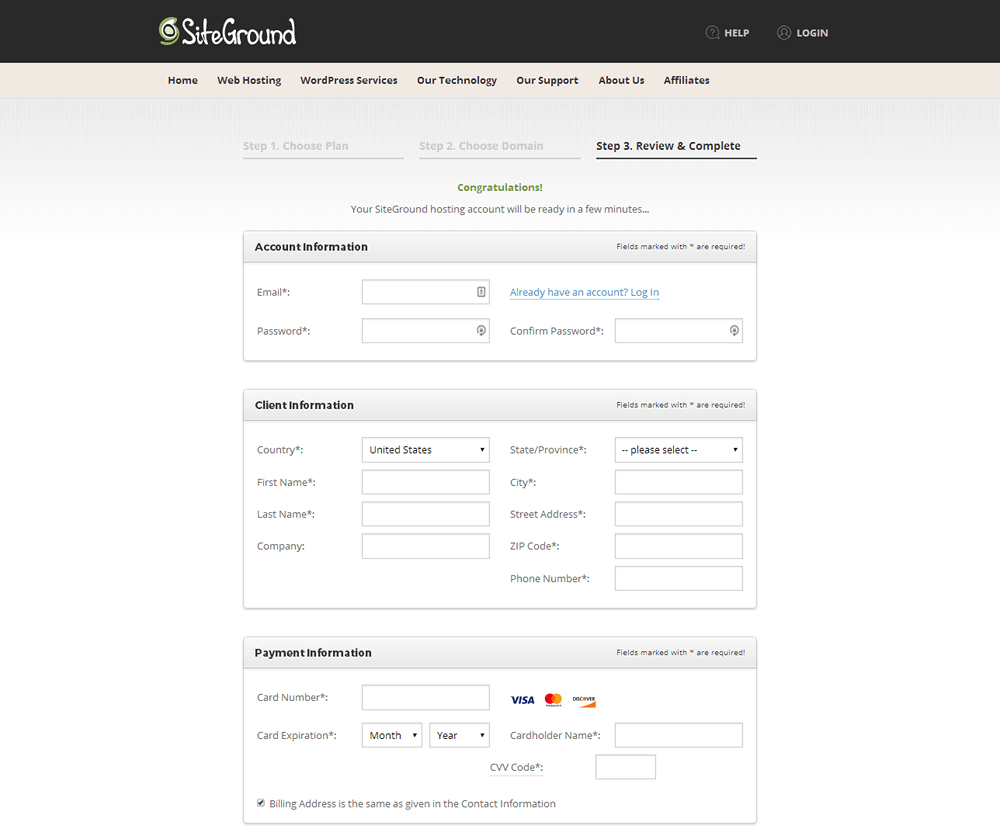 Enter your desired login information in the Account Information section as well as your billing name and address in the Client Information section. You can only pay by card on this page, so enter your credit or debit card information.
Step 4: Reviewing Your Order
Here is where you can change the plan you're purchasing, if you wish, choose how many years of hosting you'd like to pay for, and purchase additional services. I recommend that you choose the 12-month period so you can ensure your blog.
Once you agree to SiteGround's terms and conditions and decide whether or not you'd like to receive marketing emails from them, click Pay Now to complete your order.
Step 5: Installing WordPress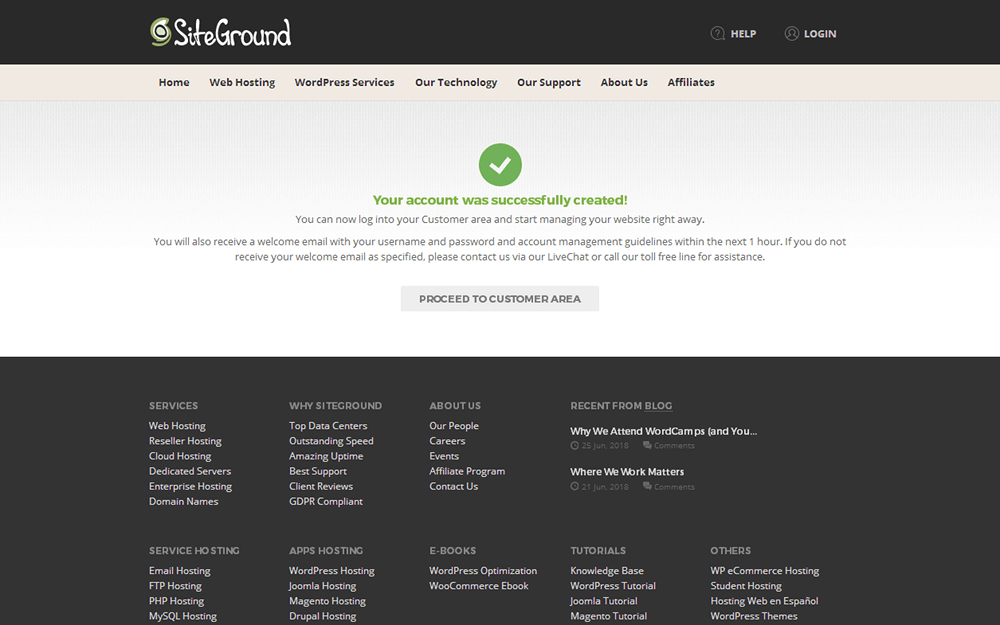 Once you've successfully completed your order, click the Proceed to Customer Area button. You'll be redirected to SiteGround's setup wizard, which will help you install WordPress on your new site. Select Start a New Website under the Set Up Your Website section, choose WordPress and enter your desired login details for WordPress. SiteGround encourages you to purchase SG Site Scanner before completing the setup process. Once again, this isn't necessary as there are many free solutions you can use in the meantime, such as Wordfence. Leave it unselected if you don't wish to purchase it, and click Confirm instead. Click Complete Setup after that.
Step 6: Connecting Your Domain to SiteGround
Skip this section if you registered your domain with SiteGround.
Once you're in the main Customer Area of SiteGround, head to the My Accounts tab, and open the Information & Settings section. You'll find your nameservers here, labelled "Account DNS." You'll need these to point your domain to your SiteGround server.
Every domain registrar handles this differently, so these instructions may not be as clear as they could be. In Namecheap, all you need to is click the Manage button associated with your domain, select Custom DNS under Nameservers, copy and paste the nameservers here, and click the little blue checkmark.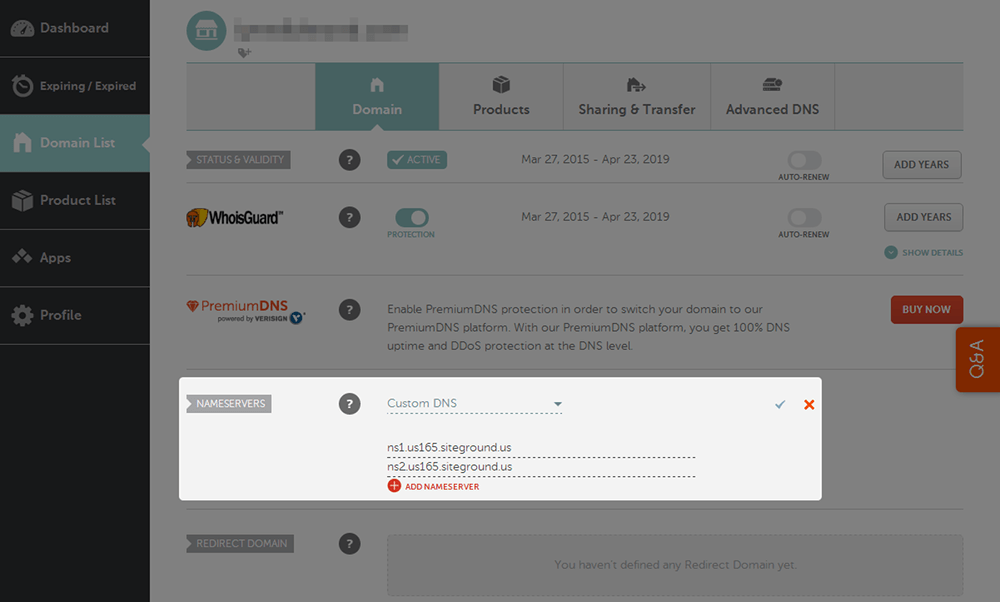 Once you do that, enter your domain in your address bar to visit your site to see if the connection is complete. Namecheap states it may take 48 hours, but it's usually only a couple of minutes. You'll see a page that says "My Blog" and "My WordPress Blog" once the connection is complete. To access the backend of your site, head to yourdomain.com/wp-admin to access the login page for your WordPress site.
Final Thoughts
Starting a blog seems like an impossible task to accomplish. However, thanks to SiteGround for simplifying the process quite a bit. Your next steps should be configuring your site's settings, installing a WordPress theme, installing a few essential plugins and adding content to your site in the form of pages. Prioritize the Home, About, Contact and Blog sections. You can start creating content after that.
Now, you already know how to start a WordPress Blog today! After that, you can start earning money through blogging. Enjoy and have fun. 🙂
Source: ThemeTrust
Did you like this article? Let littlemisadvencha know in the comment section.
Cha of Little Misadvencha is a Filipino Civil Engineer, researcher and a fur mom. She came from General Santos City and finds that everything in life teaches her a lesson. She is inspired to write about and out of her experiences, but later found out that it was her experiences that actually inspire her.